One of the most interesting topics is: How do women and men buy? And are there differences in the world of widespread consumption? If so, how can they be identified? And especially, how can we exploit, for our benefit, better targeting of our communication activities?
Usually, in Shopper research, the average time that a Shopper dedicates to observing the products is of great importance. We observed that a longer observation period does not always equate to a greater involvement; it may also signal a certain feeling of "confusion" from the part of the Buyer in front of an image that is not very well coordinated and legible.
To know this, we need to include this data and other information that is presented to us when exposure is "attractive". As a result, we have created a very interesting case that highlights even the differences in shopping made by women and men.
We are in the field of house cleaning. Normally, we expect a buyer profile directed towards the female target and instead, we find that, in front of the shelf, the division is 49% men and 51% women.
The two segments are basically equal. Behaviour is not the same, though – we notice the first relevant difference when stopping in front of the shelf (i.e., how much time buyers spend in front of the shelf, without necessarily paying attention) and the attention paid to the products. Here are the results of a period of observations in four hypermarkets: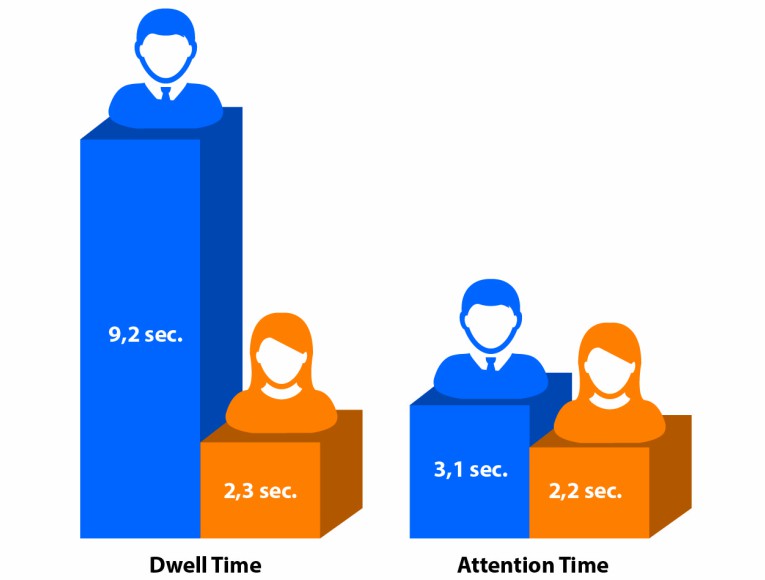 The male attention time is 40% higher than that of the female. For women, the stop time coincides substantially with the time of attention.
Here is what is observed during the first analysis. But what does this phenomenon indicate? What is the reason for the men requiring a longer time? In order to better understand, we enter another index – relevance. For us, it is the high level of interest of a product or category, its ability to capture and keep the consumer's attention. It is clear, the higher the level of this index, the better.